Bitcoin
cryptonews.com 16 m Reading time: ~2 m
Bitcoin is on course to close May down a little over 7%, marking the first negative month for the world's largest cryptocurrency since last December.
The drop would also mark BTC's worst month since the collapse of cryptocurrency exchange FTX triggered a 16% price drop last November.
But a 7% drop in May is an improvement on its May 2021 and 2022 performances, when Bitcoin lost 35.38% and 15.56% respectively.
Bitcoin was last trading down around 2.0% on Wednesday, weighed by a combination of macro headwinds as the US dollar rises on stronger-than-expected US job openings data and hawkish Fed speak, as well as technical selling.
Bitcoin recent rejected a test of its 50-Day Moving Average and confirmed a downtrend from the April/early May highs, with technicians subsequently calling for a retest of recent sub-$26,000 lows.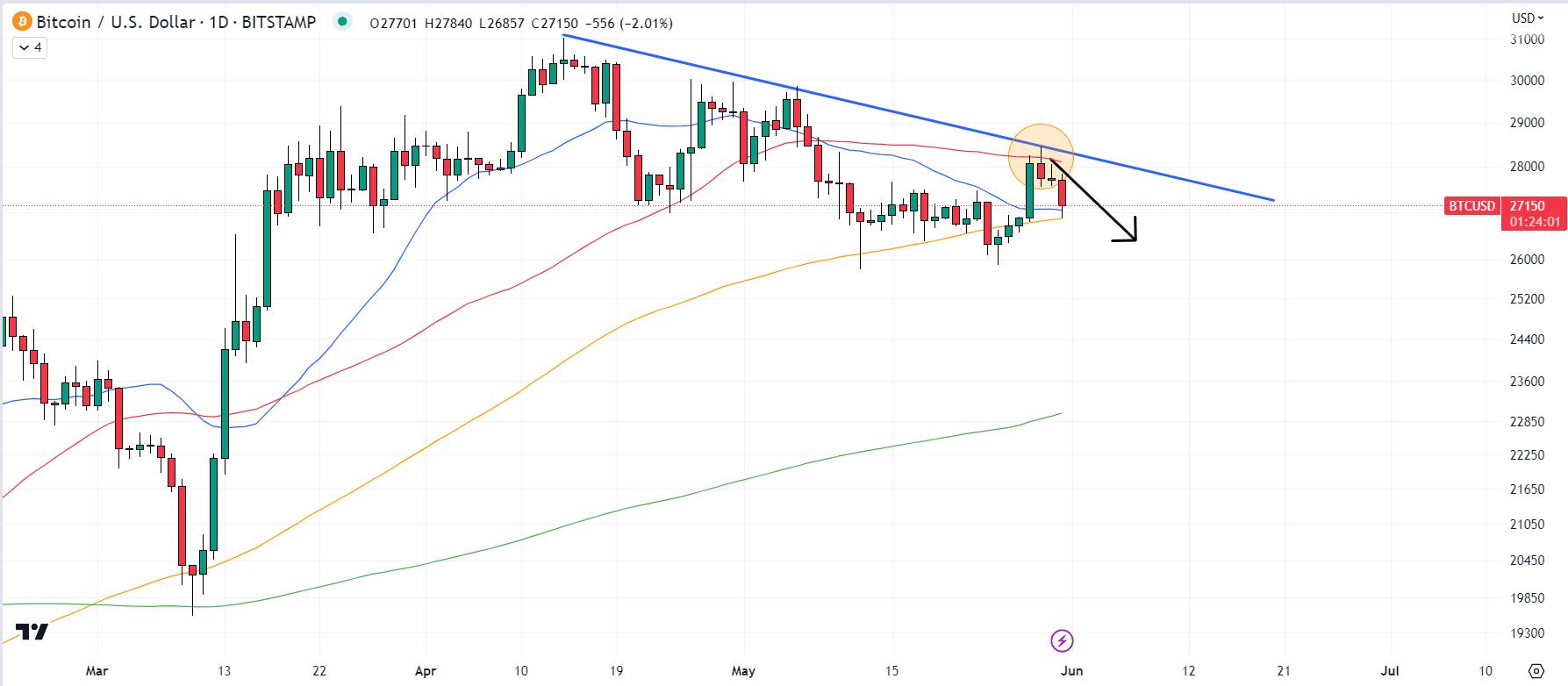 How Will Bitcoin Perform in June?
History tells us that June is, on average, June is Bitcoin's worst month for price appreciation throughout the year.
Since 2011, Bitcoin has "only" appreciated at a rate of around 7% in June, with only September and August seeing a weaker average appreciation.
More concerning is the fact that, in the last three years, Bitcoin has experienced an average price drop in June of 15.6%.
While expecting a more than 15% price drop in June might be a bit excessive, chart analysis suggests that price risks remain tilted to the downside in the upcoming month.
The above chart analysis suggests that Bitcoin is in a medium-term downtrend and recent shifts in the macro environment suggest that this downtrend is warranted.
In recent weeks, US jobs, service sector (PMI) and inflation data have remained stronger/hotter than expected, pushing back against the idea that the Fed is done with rate hikes.
Meanwhile, strong data and commentary from Fed policymakers has forced markets to price out bets on rate cuts in the second half of 2023 as US recession bets are squared.
All of this has given the US dollar decent support and lifted US yields (the 2 and 10-year, for example) above recent multi-month ranges.
Whilst AI optimism and a paring of US recession bets has kept the rally in US stocks (particularly in big tech names), which would normally help Bitcoin, the stronger dollar and higher yields have been the stronger influence.
If upcoming June jobs, inflation and activity data continue to paint a picture of a US economy that remains resilient and still faces unacceptably high inflationary pressures, another Fed hike is likely in June, and the Bitcoin price could well fall further.